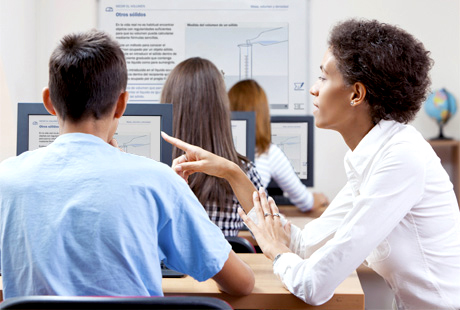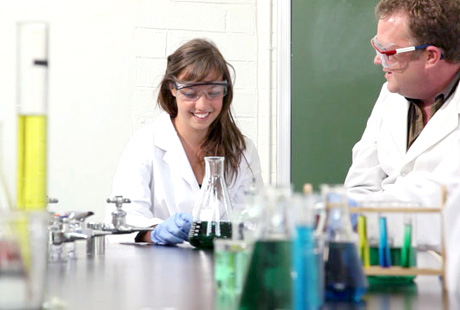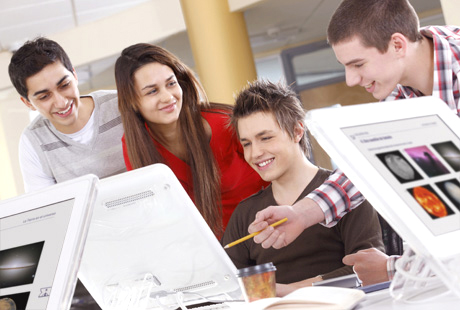 It's how students learn.
It's user-friendly.
It will fire up your science class.
Science Bits provides teachers with lessons that help them teach science in a way that engages their students.
Based on the constructivist 5E Instructional Model, Science Bits lessons use high quality multimedia interactive content to support a learning-by-doing method based on guided inquiry.
Science Bits can be used either as a substitute for textbooks or as complementary material.
Features
Integrated instructional units grounded in learning theory and based on research evidence on how students learn.
Interactive multimedia resources for dynamic and participative learning: 3D models, videos, audios, animations, virtual experiments and simulations.
Hundreds of self-correcting activities and other resources for effective learning.
User-friendly tools to accurately track student achievement.
Lessons focused on crosscutting concepts and disciplinary core ideas.
Every 5E unit includes a final self-correcting test based on the principles of skills development.
Predict-Observe-Explain activities with real videos and lab simulators.
For those students who don't have computers in the classroom, Science Bits offers a printable version with all content and activities for them to follow the unit shared on the digital whiteboard.
Complete key teacher resources and guides.
All contents available simultaneously in English and Spanish.
Benefits
Science Bits is a repository of multimedia science lessons that promote the change from a transmission educational model, based on the transmission of facts from teacher or textbook to learner, to a constructivist model, based on inquiry, discovery, critical thinking and learning-by-doing.
Science Bits is conceived and designed to make work in the classroom easier and to get the most out of the possibilities offered by the digital format—both the multimedia potential of each student's computer and the digital whiteboard.
Science Bits, used with a projector or a digital whiteboard, enriches the teacher's exposition and promotes interaction with the student body with its vast quantity of multimedia resources: illustrations, 3D models, videos, audios, animations, experiments, and simulations.
Science Bits enhances student motivation and makes concept comprehension easier by providing visual elements and interaction with the objects of learning.
Science Bits content promotes the educational use of computers or tablets by students. With Science Bits, these devices can either substitute traditional textbooks or become a complementary tool with a high educational value.
Science Bits is an easy and effective way to implement the constructivist 5E Instructional Model and a learning-by-doing method.
Science Bits' user-friendly Intranet allows teachers to create groups of students, assign them tailored bundles of content, schedule exams, monitor student progress, and grade open-ended questions, among other features.