Support for teachers' implementation of the 5E Model of instruction
To fully support teachers' immersion in the 5E model of instruction and in the use of IT in the classroom, Science Bits includes customized professional development.
Our professional development is designed by our experienced team in collaboration with districts or schools, taking into consideration the school's technological infrastructure, available classroom resources, level of technology integration skills, and professional learning needs.
A basic professional development program includes three dimensions: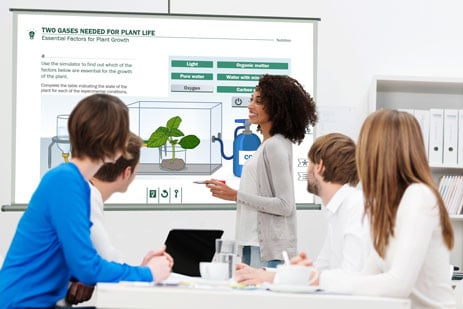 Immersion in the constructivist 5E Model of Instruction.
Best practices and recommendations for classroom implementation.
Technical features and functionalities.
Continuous assistance and support
After professional development, a personal Science Bits advisor is assigned to teachers in every school, in order to provide guidance and answer any inquiries, whether technical, practical or pedagogical issues. Teachers can contact their personal advisor both via email (with a guaranteed 24 hour maximum response time) or by scheduling videoconference sessions to guarantee fast and efficient assistance.